Richard Peery & John Arrillaga
Peery / Arrillaga
Richard Peery and business partner John Arrillaga, converted California farmland into valuable Silicon Valley office space during the 1960s. They became two of Silicon Valley's biggest commercial landlords with more than 12,000,000 square feet. They sold offices to high-tech tenants such as Apple, Cisco Systems, Intel, Sun Microsystems, HP, Oracle, Lockheed Martin, Octel, Samsung and more. Peery-Arrillaga sold half of their portfolio in 2005; the next year they made $1.1 billion selling more than 5 million square feet of office space and research facilities.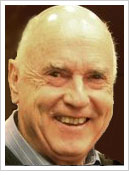 Mr. Arrillaga (pictured) graduated from Stanford University and received an MBA from the Stanford Graduate School of Business. He is well known for his generous support of the university. The alumni center, the Frances C. Arrillaga Building, is named in memory of his first wife, and various other athletic facilities carry his surname. In 2006, Arrillaga donated $100 million to Stanford University.
Mr. Peery graduated from Brigham Young University. He is married with four grown children.