About NAIOP
NAIOP, the Commercial Real Estate Development Association, is the leading organization for developers, owners, investors, asset managers, brokers, and related professionals in office, industrial, R&D, and mixed-use real estate. NAIOP is comprised of over 19,000 members in North America with 51 local Chapters who gain from unparalleled networking, trend-driven research, educational programs and powerful legislative representation.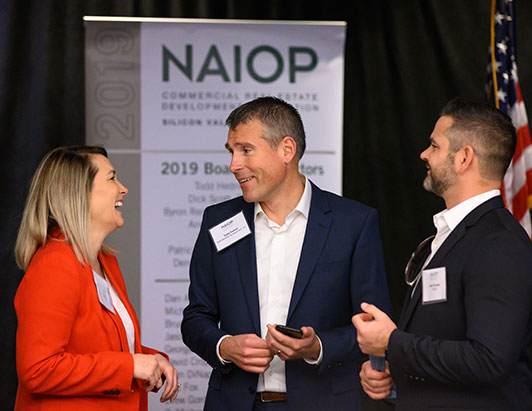 Locally in Silicon Valley
As a Chapter of NAIOP Corporate, the Chapter is dedicated to advance commercial development in Silicon Valley—the center of innovation and job creation. NAIOP Silicon Valley members build their business and connections through our virtual and in-person educational programs and networking events.
NAIOP Silicon Valley continues to protect commercial development through our advocacy and lobbying efforts. We bring a unified and powerful voice to the table with legislators, at the city, county, and state-level, to fight taxes, find solutions, and push for development to help create jobs in our community.
What Our Members Say…
"My involvement with NAIOP has afforded me the opportunity to develop lifelong friendships with many people in the commercial real estate industry and opened my eyes to the importance of understanding the legislative issues that impact our business."