The current Developing Leaders Cohorts meet every third Thursday of the month. Each month will alternate featuring a DL-wide event, such as a panel or webinar, and individual cohort check-in meetings.  The current schedule is outlined below, but may be subject to change:
January 21 – Individual Cohort Check-in
February 18  – PropTech Panel
Join NAIOP Silicon Valley for our next DL Panel, PropTech and the Impact on Commercial Real Estate on February 18 from 4:00 PM – 5:00 PM Pacific, presented by Brad Greiwe, Fifthwall; Brad Hargreaves, Common, and Edward Wagoner, JLL Technologies. PropTech is technology that powers the digital transformation of the construction and real estate industry. In the coming years, the use of technology in this industry will boom. This webinar will present a panel of industry professionals discussing subjects such as:
How has the PropTech community grown and evolved? Who are the early adopters?
How do you change the way people think of PropTech & CRE?
How will PropTech impact my sector of the industry?
The technology changing our homes and buildings
Looking at the future of smart access
How will cities become smart?
Participation at this event is open to current Developing Leader members only.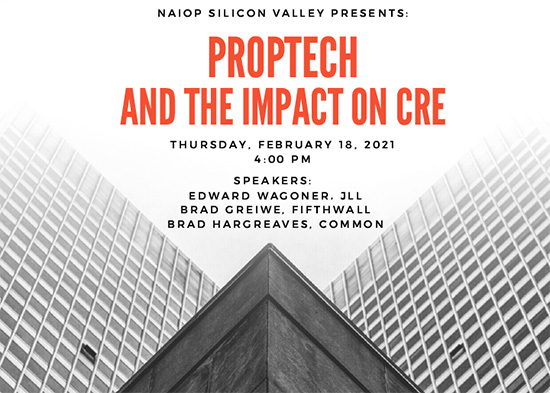 March 18 – Individual Cohort Check-in
April 15 – DL-Wide Event (TBA)
May 20 – Individual Cohort Event
June 17 – Rockstar Event
July 15 – Individual Cohorts Check-in
Questions? Please contact: Amy at [email protected]